The Legend Vault has a 1/2" thick steel body constructed of layered 3/16" carbon steel, 10 gauge stainless steel, and 3/16" (7 gauge) AR500 steel. The AR500 steel liner is three times harder than regular steel. The stainless steel package reinforces the body and door with a barrier for optimum protection against torch attack.
The Legend has a massive 1-inch door edge held in place by up to 28 locking bolts 1 ½" diameter and 4-star corner bolt system. The wide corner bolts cover maximum surface area, securing the corners of the door to prevent attacks from prying.
Also unique to the Legend is the 55 rack and pinion machined gears bank style locking system. These impressive gears are nickel plated and showcased by a clear door back panel.  It is an exclusive opening system that only Fort Knox provides on their Legend.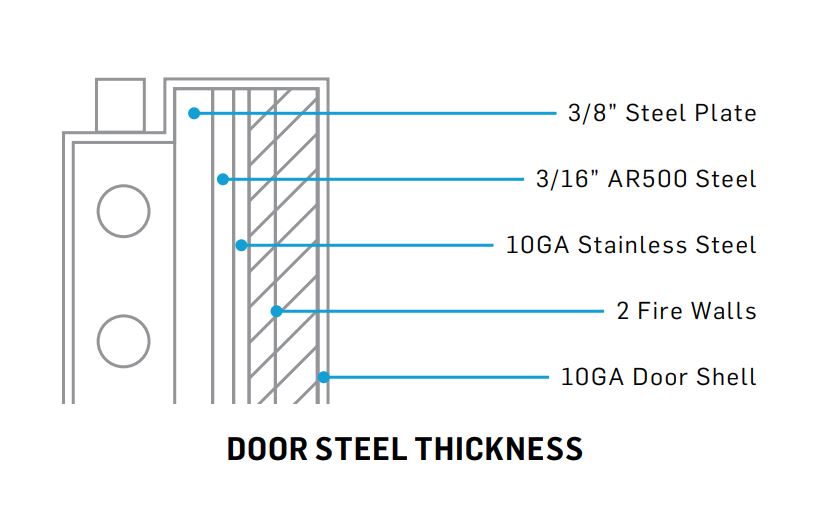 | Fire Protection | 1680 Degrees F in 90 Mins |
| --- | --- |
| Overall Body Steel Thickness | |
| Door Edge Steel Thickness | |
| | |
| AR500 Steel Inner Liner 3/16" | |
| Stainless Steel 10 Ga Liner | |
Build Options
Size & Weight
Colors
Trim
Interiors
Build Options
Your safe is the last line of defense for your valuables. The Legend vault comes standard with many of the premium protection features that are options on the other Fort Knox safes. But you can still add a few more upgrades, making it stronger and even more resistant to attacks.
The following build options can be added to enhance the security of your Legend vault.
INNER STEEL LINERS
For added security and maximum protection, you can add extra layers of steel to the inner walls of your vault. Between Level 1 and Level 4 security can be added to create more protection against any burglar trying to breach the inside of the vault. Each level adds another layer of 10 gauge inner steel to the body.
INFERNO SHIELD LEVEL 120
The 2 Hour Reinforced Fire upgrade adds more fireboard insulation to protect your most prized possessions, increasing the rating to 1680 degrees in 120 minutes.
Size & Weight
Colors
Trim
Interiors
Feature Options and Accessories